Discover a different world
+34643954364
Try Diving now
First time diving? That's great - we all started at some point. Your first time will be from the beach, so you have full control of how fast we are going deeper in the water.
The instructor will introduce you to the breathing and equalising technics, balancing yourself in the water, the basis of how your scuba equipment works and how do we communicate:)
After short walk with an equipment on - your instructor will help you to get in the water. You will have a time to get used to breathing, balancing yourself in the water. 
Your instructor will be all the time with you, holding you and helping you with your balance.
No time limits here! You get as much time and attention as you need.

Ready? Let's go diving!
Locations
Beginners:
Los Cristianos,
Las Galletas,
Abades,
Radazul,
Tabaiba
Certified divers: All over the Tenerife (depending on conditions)
Certified divers
As a certified diver you have many options within your certification level. From shore dive, through wreck to a night dive. Equipment provided as well as air cylinders. If you need diving insurance - we can also provide one.
Get certified - start learning now
Start from Open Water Course or continue with further certifications. 
Available PADI courses:

Open Water
Advanced Open Water
EFR & Rescue Diver
Divemaster
From Zero to hero - contact for more information
Full description of the courses and included materials:
PADI license - course description
Click on each course to learn more.
About me
PADI instructor, Master Scuba Diver Trainer, actually living in Tenerife for over 3 years. 
Awarded by PADI, thanks to my Students and Customers with a Certificate of Excellence in 2022 and 2023

It's heartwarming when students appreciate their diving instructor. Especially since we put all our heart and soul to make this dive experience unique, comfortable, and safe, so after finishing a dive, you came out happy and don't have enough of salt water;)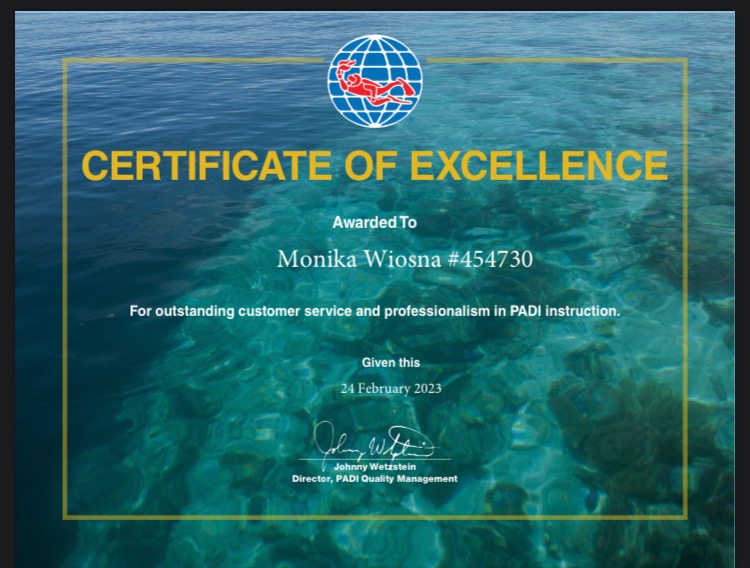 Gallery